This is something that you can eat everyday and never get sick of it let me tell you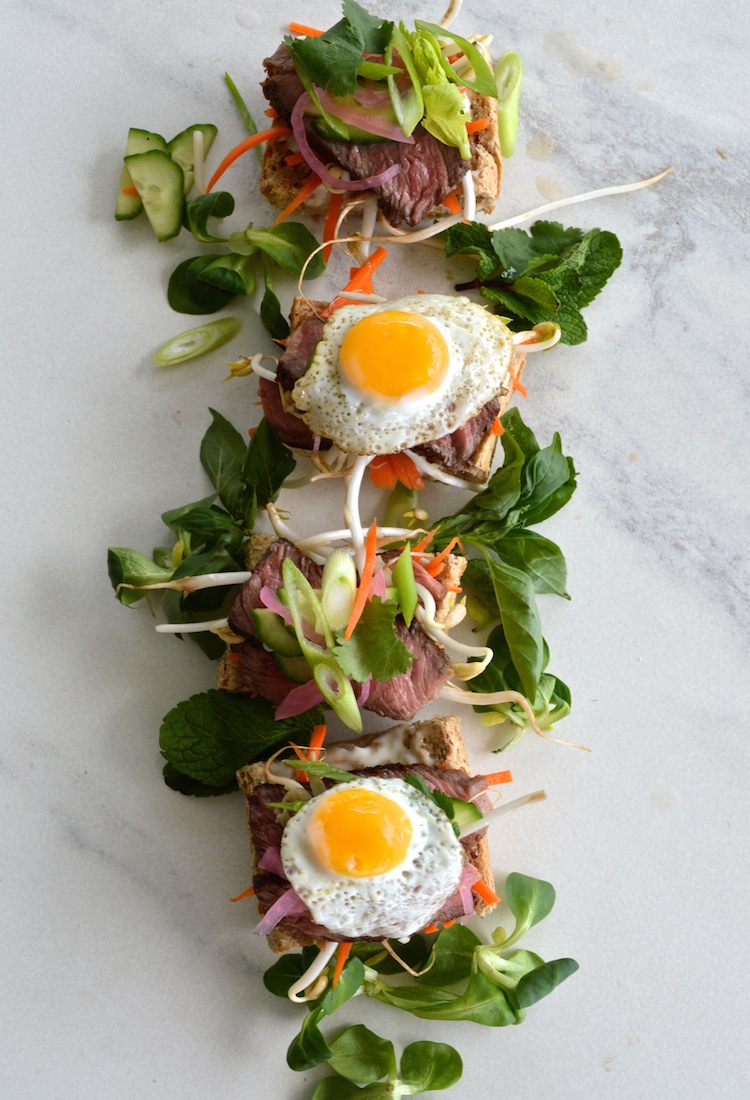 Like I have said before I am completely obsessed with Thai food. Actually asian food in general. I love it all and I want it all the time.If I had to pick only two cuisines for the rest of my life it would be Asian and Italian. Although I would have to figure out a way to incorporate mustard into things as mustard is one of my all time favourite condiments. My best friend recently send me down 10 bottles of mustard from this gourmet store in Toronto.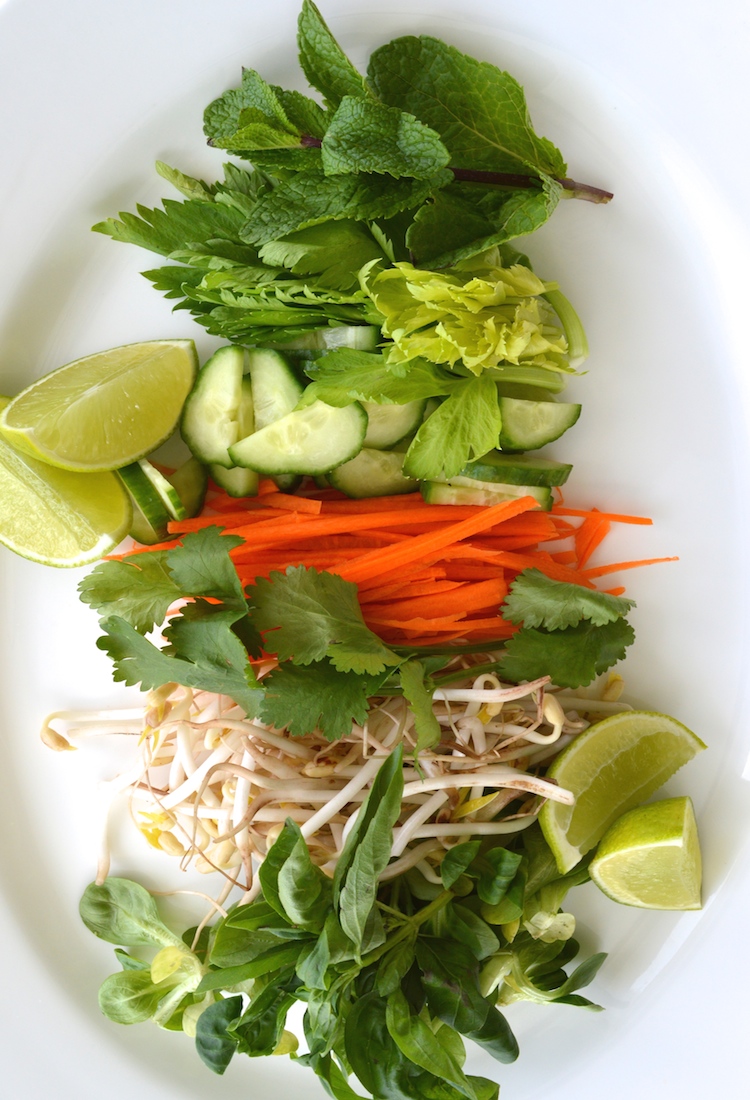 I rememeber the first time that I had a steak sandwich that literally blew my mind. I am sure that it was not my first but it is the one that I remember. I was at this little Cafe in Gastwon in Vancouver for a "work" lunch and the Steak Sandwich happened to just pop out at me. It was absolutely perfect. Everything about it. They had made this onion jam, a horseradish cream sauce, perfectly rare steak (Is there any other way to cook a steak) and fresh arugula and I was literally in food heaven. Don't you just love when go out and get an absolutely perfect meal. Its like nothing else matters and everything is complete in your life. I just got real deep on food there for a second and I am not even ashamed to admit it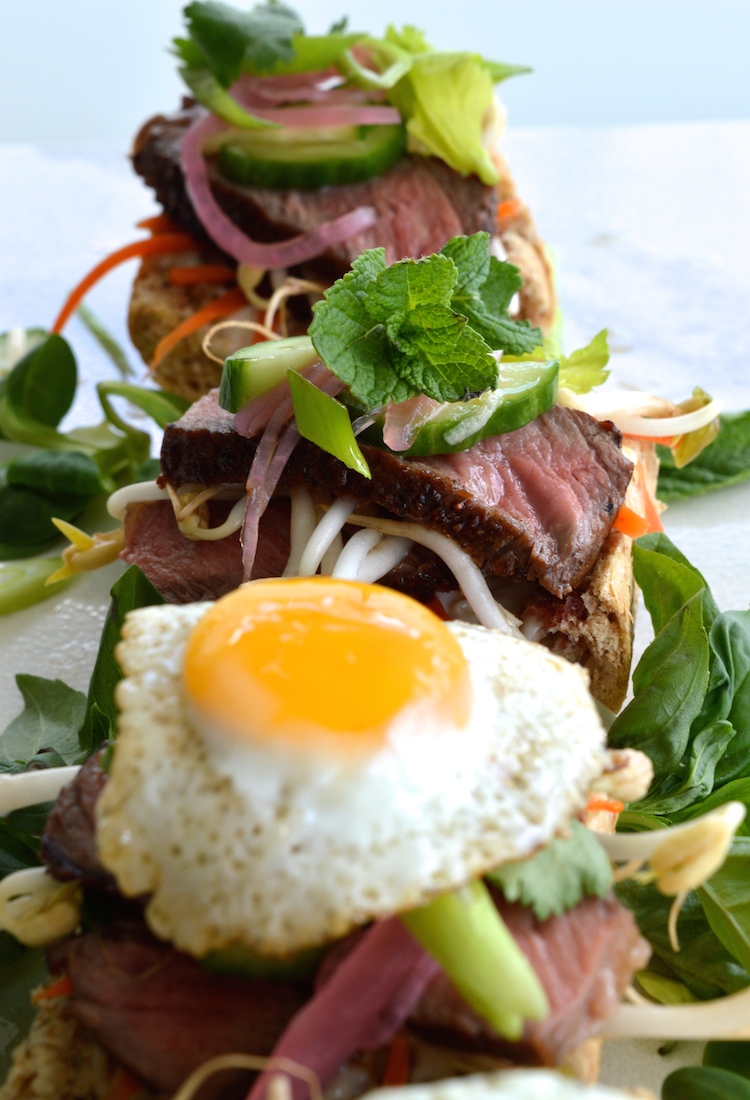 So as I said before I am completely obsessed with Thai Food and even more so Thai Lime dressing and find any excuse to incorporate it into things. So i look in the fridge and here is this steak starring at me but I am also in the mood for a Thai papaya salad but I also bought a baguette that is starring at me and as you probably know baguettes have about a one day shelf life until they start to turn on you. Literally two says after you but one you could knock someone across the head with it and they would fall down. I mean I think ….
Anyways back to the point. Thai Steak sandwich just seemed to pop out at me. Let me tell you it did not disappoint and for some reason I have a hard time not topping things with a fried egg so hello fried quail eggs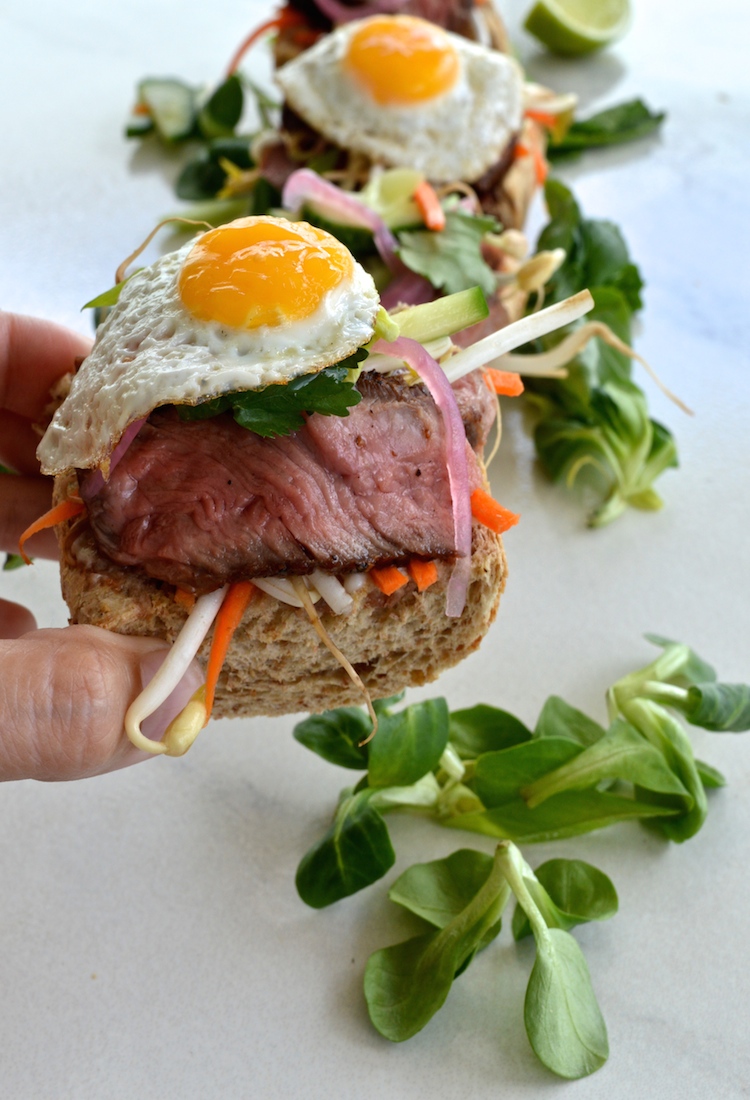 Yes Leslie …. Another fried Egg Post!
Who doesn't want a fried egg on things. And I am not sure what it is but the eggs in Bonaire are so freaking delicious. Maybe its because they roam around a farm all day and are not kept in cages in complete darkness so they are very happy chickens. But that is for a different conversation …..
Ok so lets break this down a little
Perfectly cooked steak
Rich, gooey fried quail eggs
Thai style lime dressing salad
Crispy Baguette
Spicy Horseradish dressing
I mean how is that not a killer combination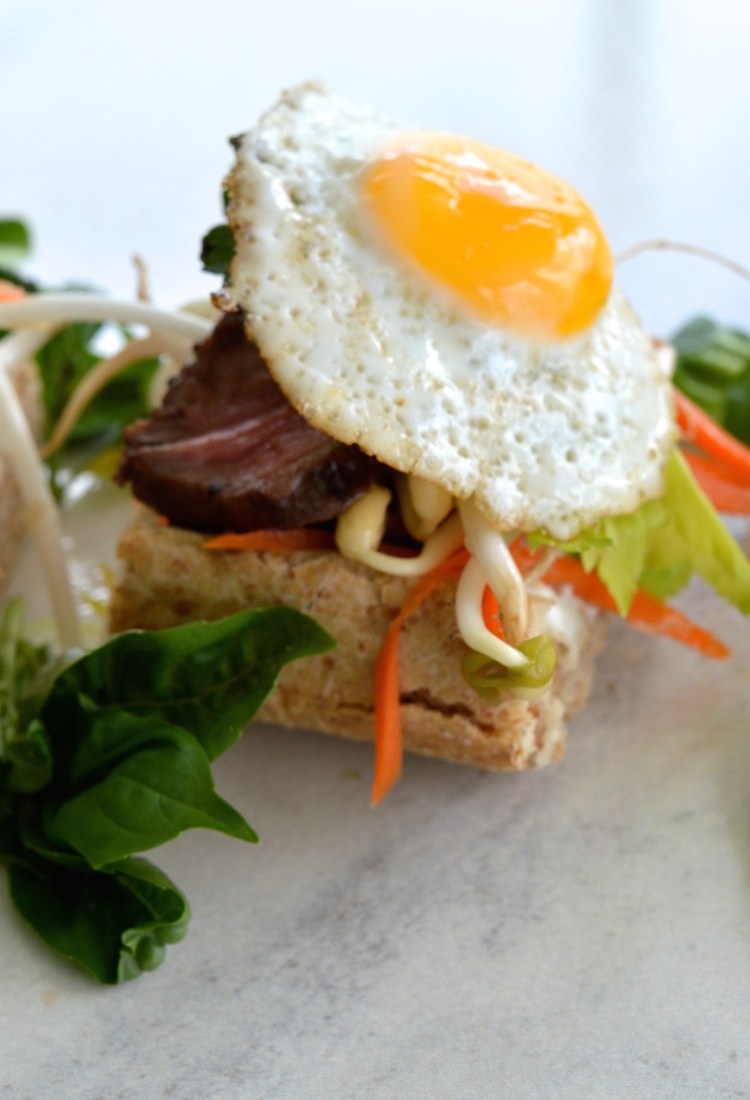 After I took the photos I took all the leftover salad and dressing and just poured it all over the bread and it was to die for. It was the perfect sponge for the lime dressing. Everytime I finish a papaya salad and there is all this dressing left over I just want to drink it. Does that make me a weirdo? Anyways now I know just have a couple pieces of baguette to sop it up with. Ok so after reading that it makes total sense that I only want italian and thai.
Fresh Baguette and Thai Lime Dressing = Liz Food Heaven
Well as much as I can sit here and talk about how much I love food all day I am currently on Vacation in Curacao laying on a beach chair and the pool is calling my name. So I am going to sign off, grab a margarita and enjoy the sunshine
Hope everyone has an amazing day xo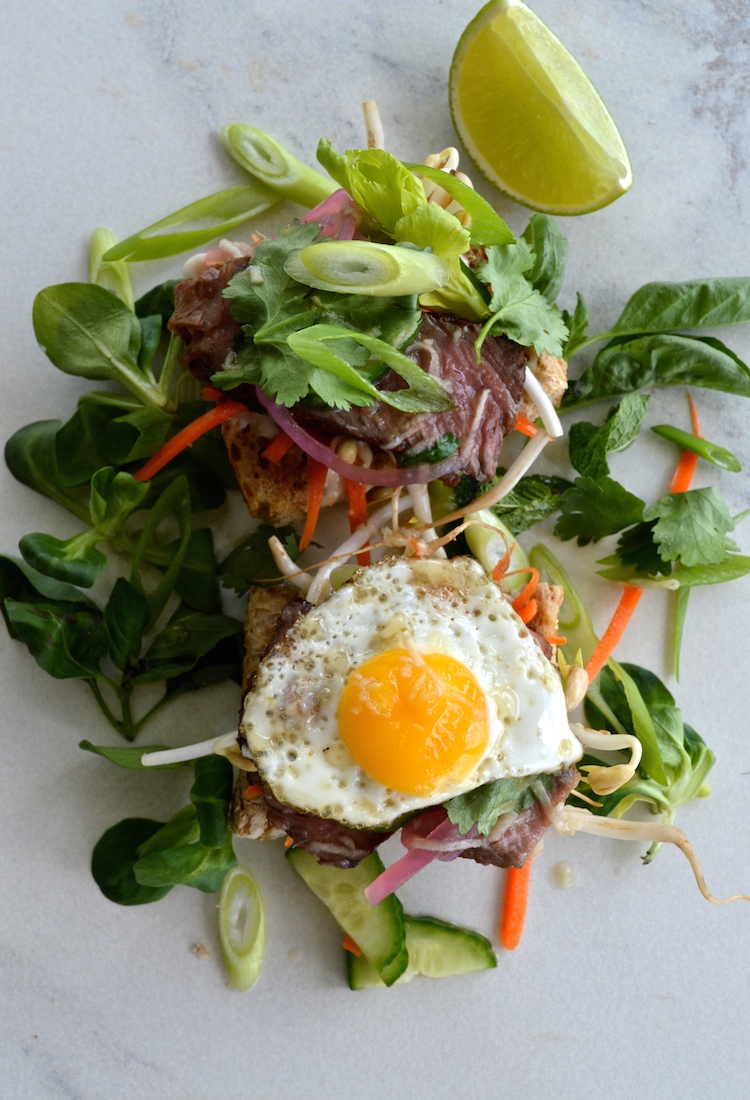 Open Faced Thai Style Steak Sandwich With Fried Quail Eggs
Author:
Liz: Sadie's Kitchen Table
Ingredients
1 strip steak
½ Baquette
⅓ cup chopped cucumber
1 spring onion, thinly sliced
Bean Sprouts
Celery Leaves
Cilantro
Mint
Basil
Lettuce leaves
4 quail eggs
½ cup packed bean sprouts

Pickled red onion
    1 medium red onion
    1/2 cup vinegar
    1/2 cup water
    1 tbl. Sugar
    1 tsp. salt

Lime dressing
   1 tbl fish sauce
   3 tbl lime juice
   1/2 jalepeno grated
   1 tsp palm sugar
   1 clove garlic, minced

Horseradish Dressing
3 Tbl. Greek Yoghurt
1 Tbl. Mayo
1 Tbl. Horseradish
Salt
Pepper
Instructions
Slice the red onions into very thin strips. Add into a pot with the rest of the pickling ingredients. Bring to a boil then take off the heat. Add to a canning jar and set aside. Once cool enough transfer to the fridge
Combine all the ingredients for the lime dressing into a jar. Shake and set aside
Combine all the ingredients for the horseradish dressing and set aside
Take the steak out of the fridge and season with salt and pepper. Heat a cast iron skillet over medium high heat and add one tablespoon olive oil. Once hot add the steak and sear on each side for about 4-5 minutes each or until about medium rare
Let it rest for 5 minutes then slice thinly across the grain
While the steak is resting fry the quail eggs in the same pan until the whites are cooked and the yolks are still runny. Remove and set aside
While the steak is resting lightly toast the baguette
Take 1 cup of the bean sprouts, celery leaves, cilantro, mint and basil and combine with the lime dressing
Top the baguette with the horseradish dressing, fresh herbs with dressing, steak, lettuce and fried quail eggs
Slice and Enjoy