Ok Ok I know I said last post that its Salad time but lets shift off the Salad for a second and talk about how it's time for some Green Curry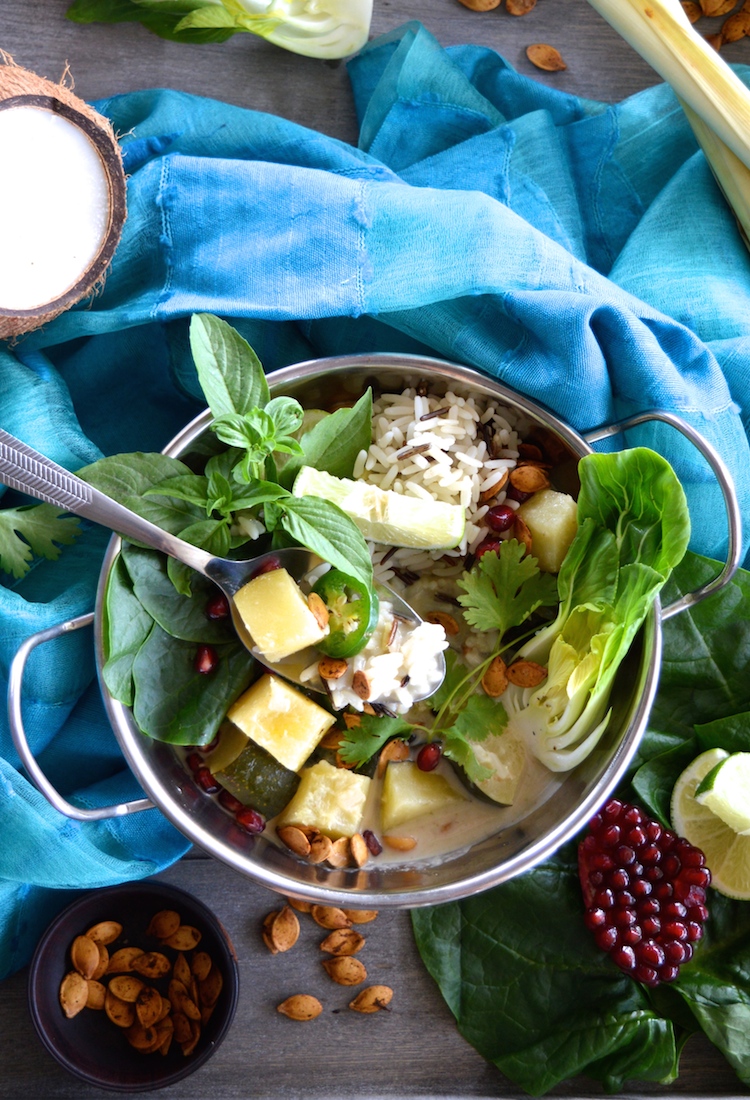 Oh, well its hot outside why would I want to eat a spicy Thai Green Curry?
Well first, if you have ever been to Thailand you would know that it's always hot and people are always sitting around eating Curries so lets take that excuse and chuck it right out the window. And second, it's incredibly delicious and why would we ever want to deprive ourselves from delicious food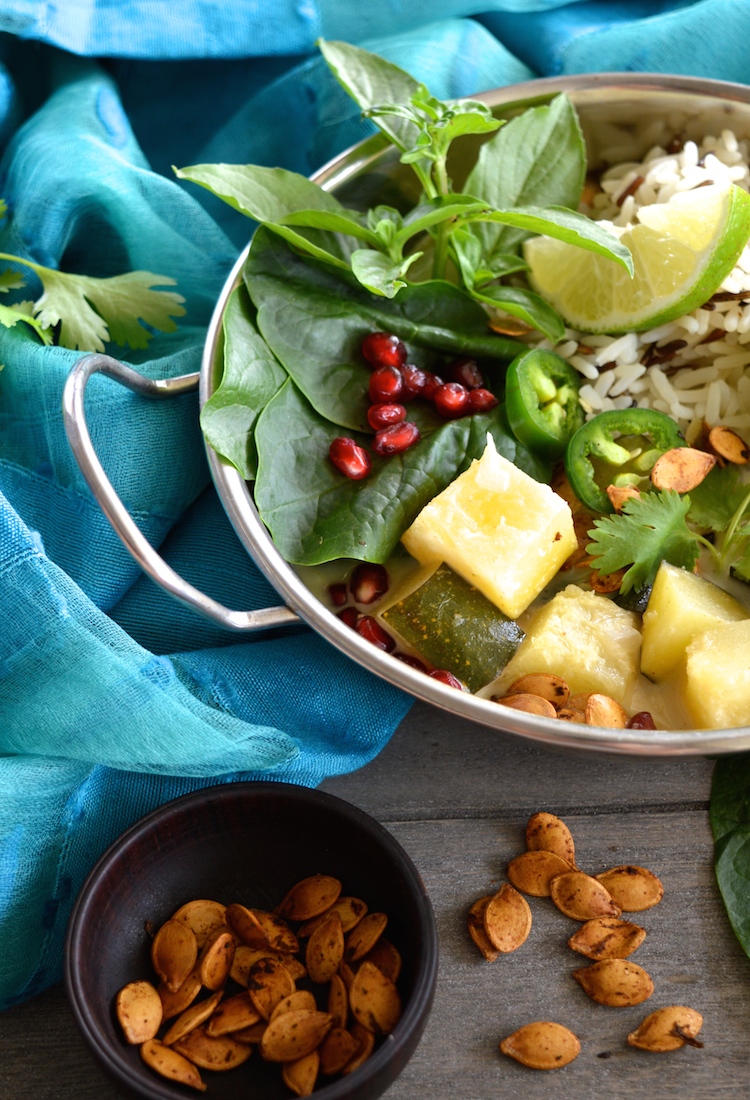 I have to admit, Thai food has really really been on my mind these days. It has been almost 3 years since I was there last (although it seems like a lifetime at this point) and am in desperate need to go back. I have a list of items that I want to learn while I am there and hopefully can find someone to teach me
Northern Thai Sausage
More information about Broths!!!! YUM
Thali Set (In Nepal)
Thai Fried Chicken on Lemongrass
I had such a great time on my last trip there and after spending a month in Cooking School I came out with such a better understanding of the flavours and have not stopped cooking it since.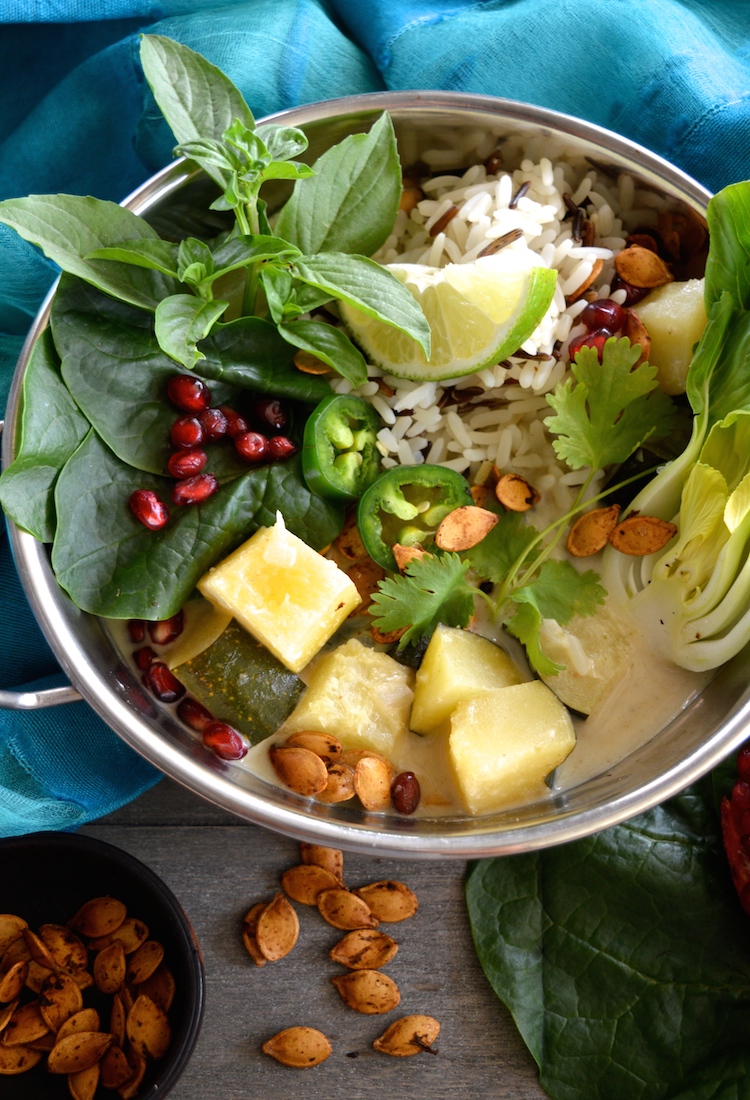 So lets talk for a second about the 3 main curries of Thailand and also about the different spice levels of each. In order from Spiciest to More Mild it goes Green Curry, Red Curry then Yellow Curry
Green Curry: This is the spiciest of the bunch in thanks to the young thai green chillies used to make the paste. If making your own you can always scale down on the chilies, use less paste in the curry base or add more coconut milk to tone down the heat. One thing to be careful with when using Green Curry paste is that although it may not look very green when mixing it with the coconut milk do not add more. Believe me … it's there
Red Curry: Still spicy but in my opinion more of a creeping style heat instead of a hit you in your face heat like the Green Curry. Although, depending on which curry paste you buy or who is making it Red Curry can be spicier. Again, you can always mellow it out by adding less curry paste or more coconut milk
Yellow Curry: Without a doubt the mildest of the three. To be honest I have not had this very often as I will always go towards spicy dishes but it is equally delicious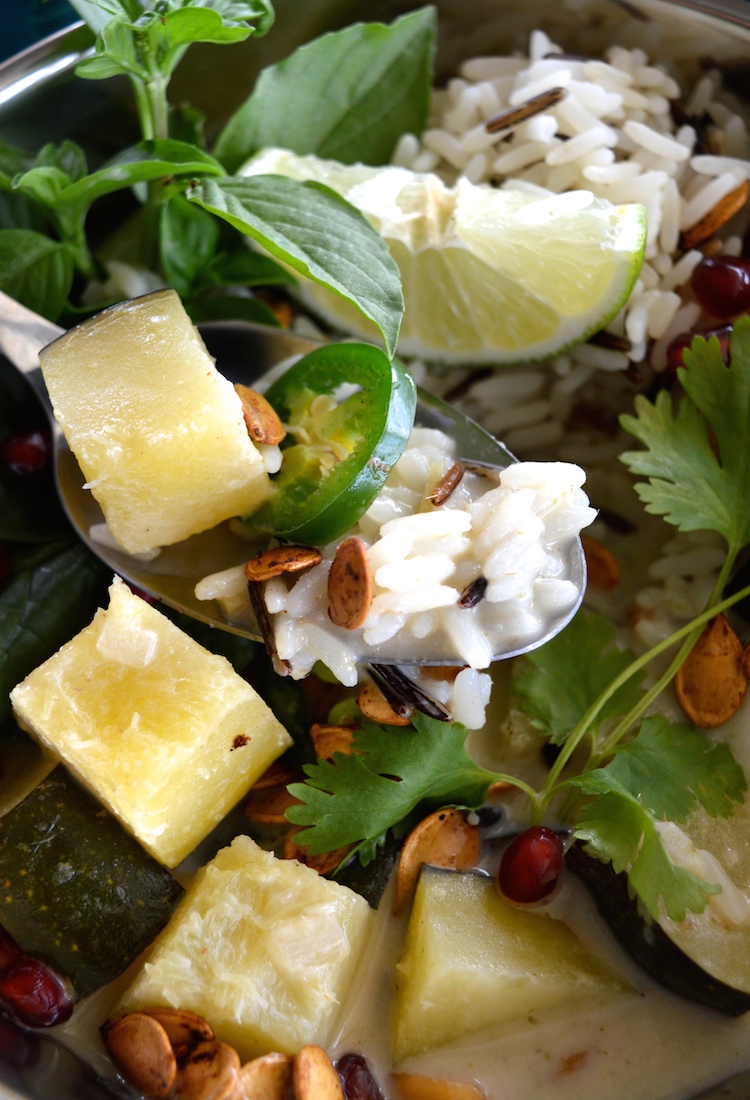 Rob are you reading this??? Let's go back to Thailand 🙂
I made this recipe for my friend Amy who is always asking me for recipes to cook for dinner and sometimes after sending her 30 ideas (literally I will sometimes) I message her later asking what she has made and what do you know she has ordered Thai takeout. So I thought what better than to make her a Thai Recipe and there are no excuses on this one
Simple And Quick
Under 30 Mins
It's Thai (That just needs no explanation)
Spicy
Bursting With Flavour
Creamy
It's just plain delicious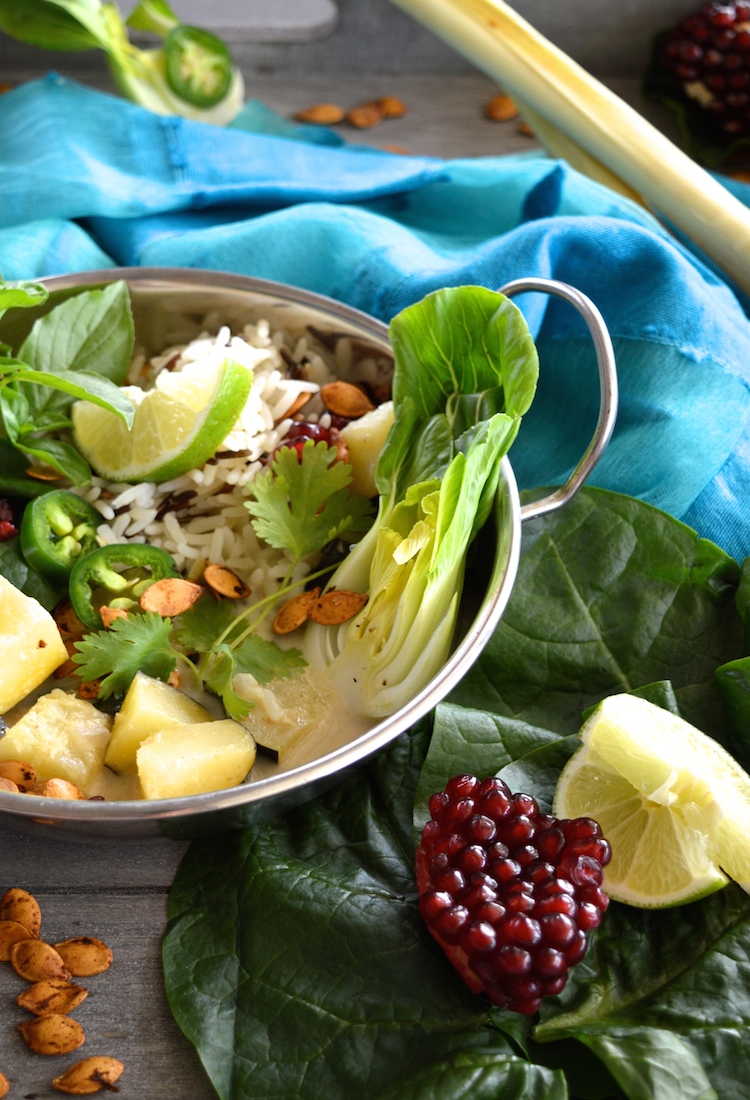 And just so we can cut out all of the excuses here there are a quick simple substitutions for the ingredients
If you don't feel like roasting the seeds, substitute any type of nut you have in the cupboard
Don't have green curry paste, try using red or yellow
Can't find fresh lemongrass, substitute jarred or fresh ginger
So now that there can't be any possible excuse to not cook this dish you have to go and make it. All of you reading this just scroll down a little further to the recipe and get cooking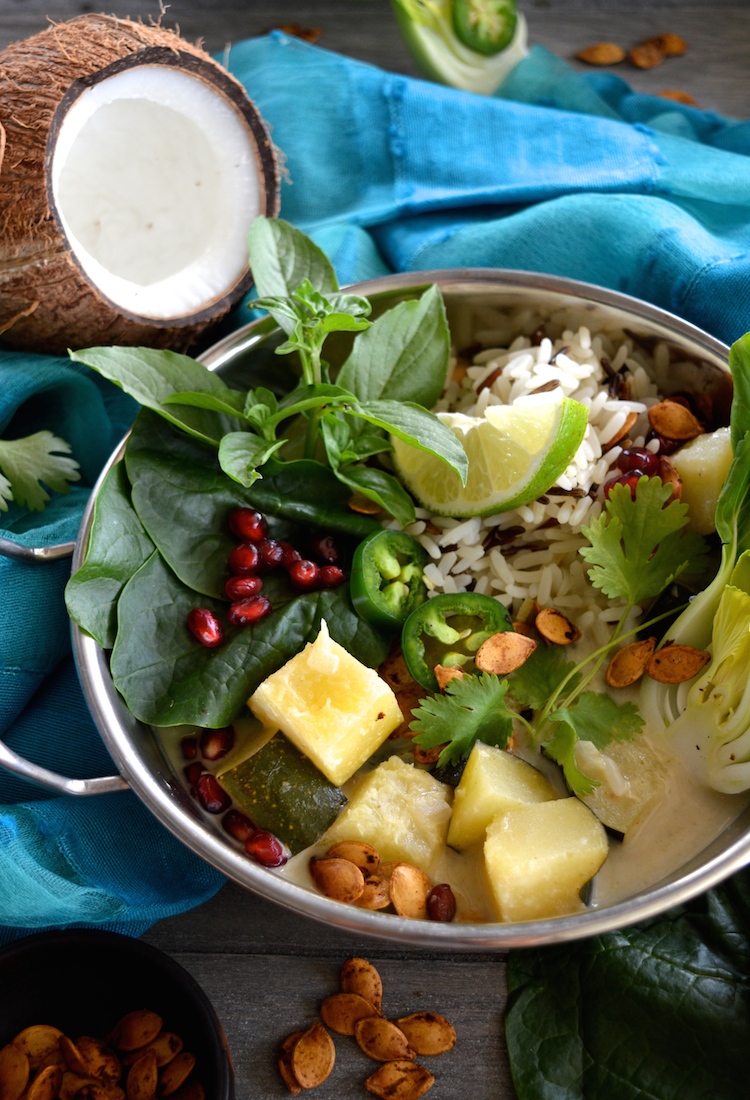 On a side note, one thing that you may have noticed in the pictures is that the bok choy is indeed not cooked. This was not for "picture" reasons. Because of the heat from the Green Curry the fresh bok choy on the side acts as a nice cooling agent. If you don't have bok choy you can always use Cabbage or maybe you don't need it at all. I always tend to have mine on the very spicy side so it is a nice break from the heat for me. But lets face it it does look pretty good
Enjoy!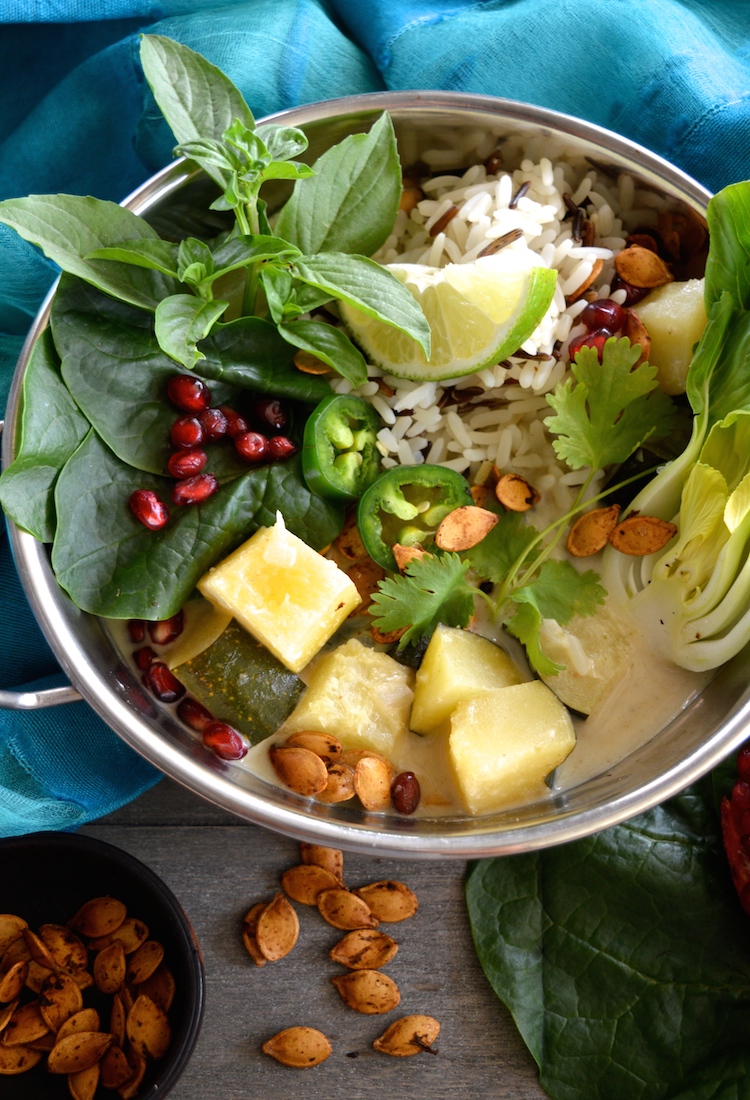 Vegan Thai Acorn Squash Green Curry With Lemongrass Wild Rice
Author:
Liz: Sadie's Kitchen Table
Ingredients
Green Curry:

¼ Acorn Squash
1 Can Light Coconut Milk
1 Tbl. Minced Onion
1 Clove Garlic
1 Tbl. Thai Green Curry Paste
2 Tbl. Lime Juice
2 Tbl. Peanuts
Rice:

½ Cup Wild Rice Mix
1 Lemongrass Stalk
1 Tsp. Minced Ginger
1 Cup Water
Acorn Squash Seeds:

1 Tsp. Lime Zest
Salt
Pepper
Toppings:

Thai Basil
Cilantro
Jalepenos
Pomegranate Seeds
Spinach
Bok Choy
Lime Wedges
Instructions
Preheat the oven to 350 degrees fareneheit
Add the rice to a small pot and add in 1 cup of water, lemongrass and sliced ginger. Bring to a boil then reduce to a simmer and cover with a lid. Cook for around 15 minutes or until the rice is done and all the water is absorbed
While the rice is cooking add 1 tablespoon of olive oil to a pot over medium high heat and add the diced onion, ginger and curry paste. Saute for 30 seconds or until fragrant then add in the coconut milk. One it comes to a small boil lower the heat and add in the acorn squash. Simmer for 20 minutes or until the squash is tender
While the curry is cooking, clean out the seeds from the acorn squash and dry them with paper towels. Toss them with salt, pepper and the zest of 1 lime. Bake in the oven for 15 minutes or until crunchy
When the curry is almost finished add the lime juice and peanuts
Once the rice, curry and squash seeds are cooked start to assemble. Scoop the rice into a bowl and top with the acorn squash curry, the seeds and any other toppings
Enjoy