Its Cold outside, its been a long winter and you need some stick to your ribs warm you up kinda food and this Mac and Cheese delivers on all fronts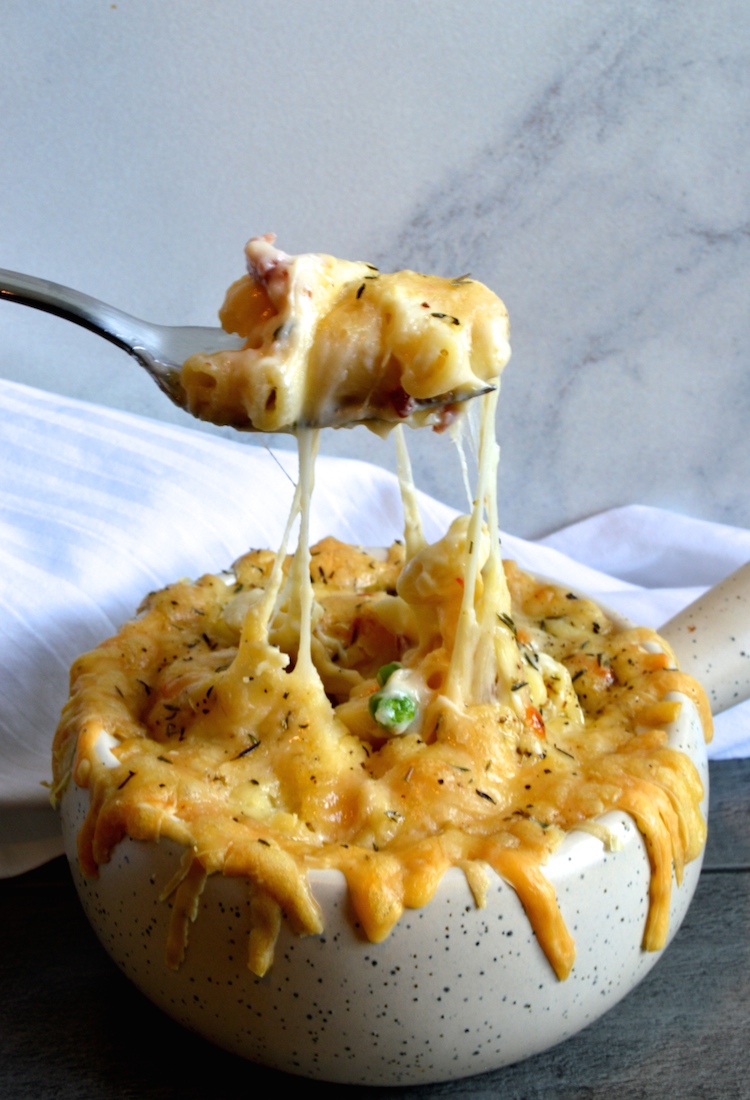 Ok, So I live in the Caribbean and it isn't exactly winter or even remotely cold down here but I have been keeping track of it on the news and it doesn't look good. Do you ever watch movies that are based around snow or extreme weather and you want to get a blanket out because it makes you feel cold, thats how I feel watching the news about back home
Is it not middle of March yet how is it still snowing. You know when the Mayor is telling people to stay home last week its bad. And unbelievably we were watching the news the other morning and people who got stuck on highways in a blizzard spent the night in their cars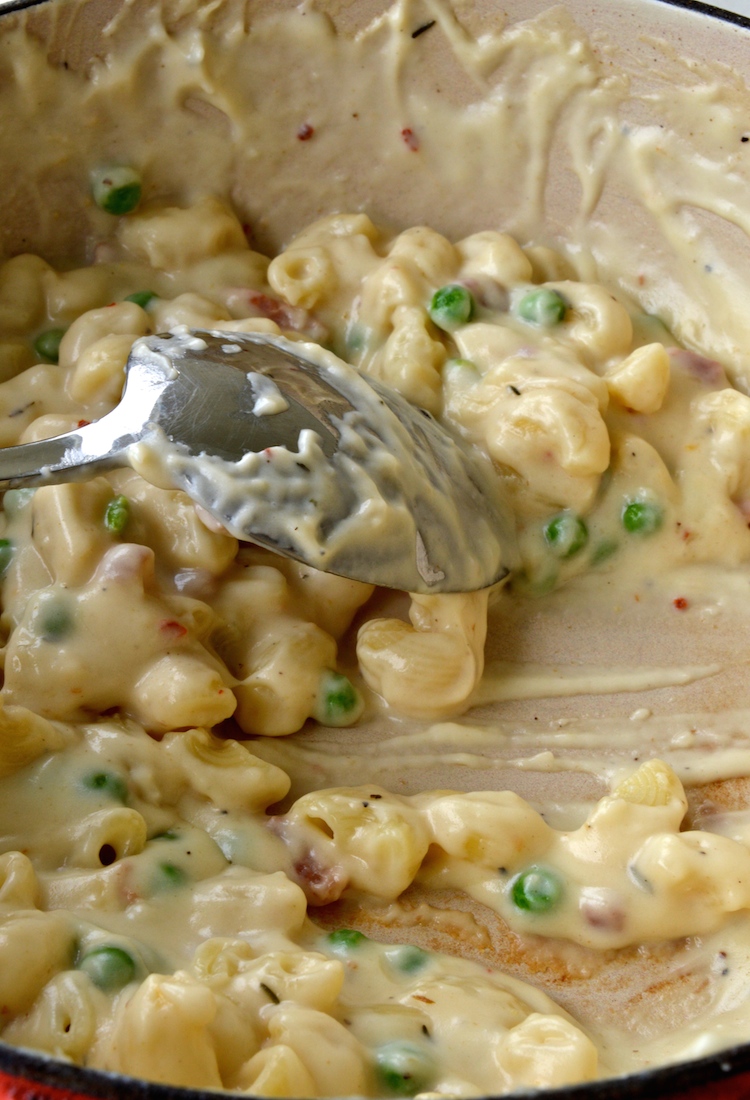 How is this even possible without freezing?
I know that I am a bit of a baby when it comes to the weather and the water temperatures just ask my friends but I put on a jacket in the "winter" in the Caribbean when it starts to drop just a couple of degrees in the evenings. And there is no way you can keep your car running all night could you?
Also, did anyone happen to get a look at the house on Lake Ontario that literally froze. A whole house froze. Yes, a whole house. My boyfriend thought it was fake at first but we googled it and apparently this happens in winter, and with cars as well. Pretty good excuse to not come into work though. Hey boss, sorry my house is frozen can't come into work today. I am sure there is some hell freezing over joke that should go along with that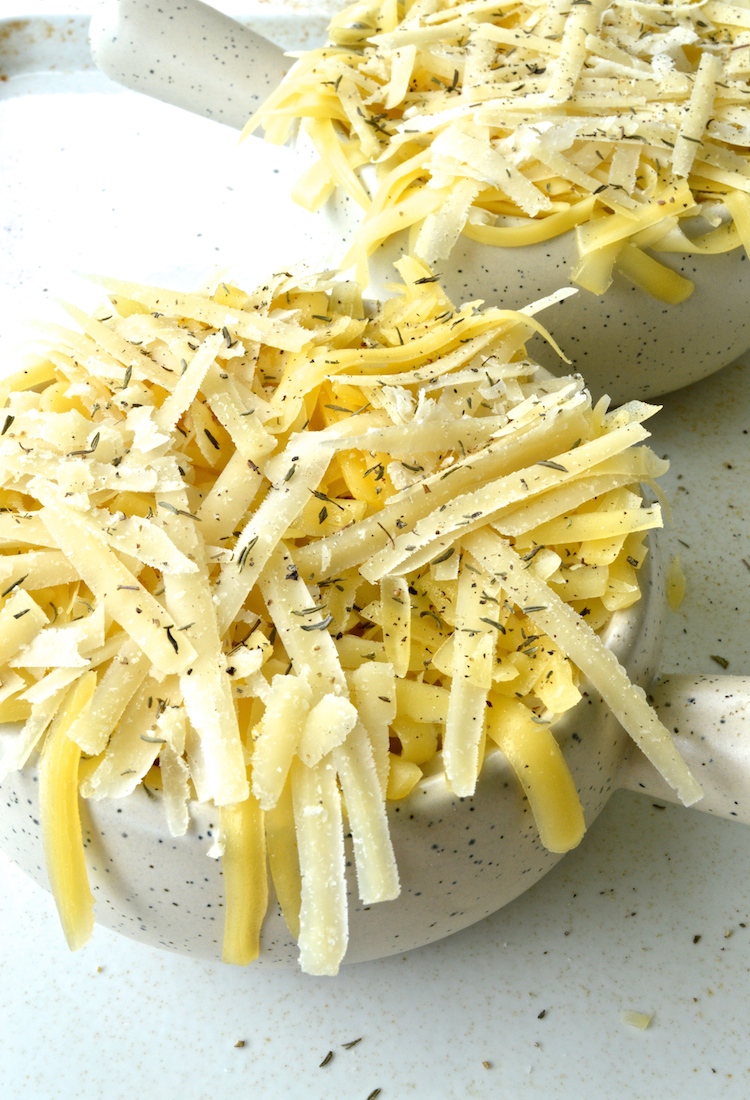 So when its that cold outside you really don't have much desire to cook something light and cold. You want something comforting that you can plunk yourself down on the couch with, wrap yourself in a warm blanket and put a good movie on
May I present you with Mac and Cheese
There are a lot of recipes out there for Mac and Cheese but this one omg is amazing. The cheese to pasta ratio is ridiculous and once you have a bite you are going to want to keep coming back for more and more I promise.
If you are from North America you will have no doubt had Kraft Mac and Cheese in your life, or KD as we used to call it. Any maybe some of you went as far as making it with hot dogs and Ketchup like I did. And yes, if you are wondering if I still eat that the answer is hell ya I do. I don't know exactly whats in that powdered cheese concoction but its brings back those memories of childhood. But some days I like to be an adult and have adult mac and cheese
Lucky, being in Bonaire which is a Netherlands territory it is only natural that we get access to such amazing cheese down here and for ridiculously cheap prices. And of course the raining king of the dutch cheese is the Gouda. At home in Canada when cheese goes on sale it is such a treat and for some reason we seem to have the highest prices. Here you can buy a quarter block of gouda cheese for $8.00 so naturally I added a ridiculous amount to this pasta. And why not cheese is one of those things that make you want to live to 150 for, just so you can have more cheese in my life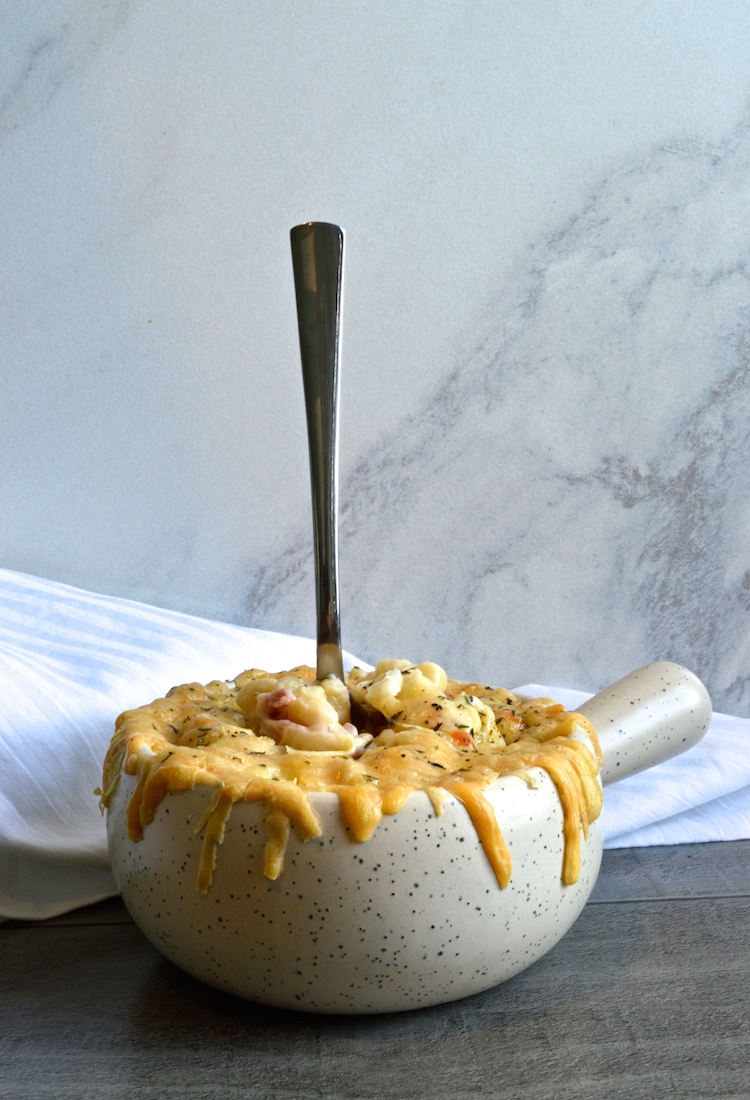 If you haven't noticed I love cheese
Cheese Cheese Cheese
So what makes this Mac And Cheese so good?????
Ridiculously Cheesy
Gooey
Comforting
Warming
Takes you to that happy place
Bacon!
There is also that moment when you make a dish like this for someone and you place it in front of them and they take that first bite where you take your fork out from the mac and cheese and into your mouth and there is cheese that comes up from the bowl to your mouth. That is truly a magic moment indeed
And gruyere may be an expensive cheese but it it worth it for this mac and cheese and it's also whats going to make the top so stringy and drool worthy
Hope this warms everyone up from the rain and snow. And Happy first day of Spring everyone xoxo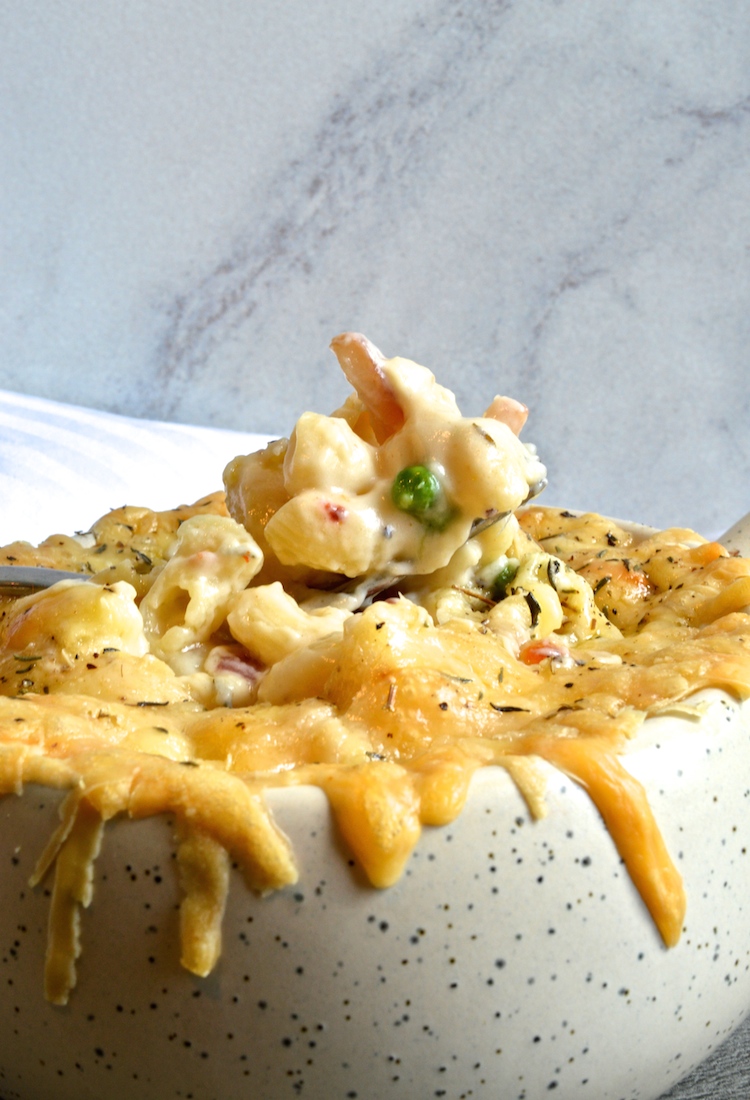 Creamy Gouda And Gruyere Mac And Cheese With Crispy Bacon And Peas
Author:
Liz: Sadie's Kitchen Table
Recipe type:
Mac And Cheese
Ingredients
3 cups milk
¼ cup Flour
4 Tbl. Butter
2 Cups Gouda (shredded) + ½ Cup
1 Cup Gruyere Cheese (shredded) + ½ Cup
2 Cups dried macaroni pasta shells
1 tsp red Chili flakes
1 tsp Dijon mustard
1 tsp Dried Thyme
1 cup diced bacon
½ cup frozen peas
Salt
Pepper
Instructions
Heat a medium wide bottom pot over medium high heat. Add the butter and once melted, add the flour to make a roux
When the flour is starting to brown and slightly cooked through, slowly add in the milk. Simmer until it thickens then turn the stove down to low and slowly incorporate the cheese in batches (Minus the extra 1 Cup)
While you were making the cheese sauce cook the pasta according to directions, drain and slightly cool with cold water
Preheat the oven to 350 degrees Fahrenheit or 180 Celsius
In another pan, add the diced bacon and sauté until crispy
Combine the pasta noodles, bacon and peas into the cheese sauce and season with salt and pepper
Divide the pasta into two or three bowls (depending on how hungry you are) and top with the remaining cheese
Bake for 20 mins or until cheese is golden and melted
Get ready to be in cheese paradise