Tonight: Ottawa Senators Vs Pittsburg Penguins
Ottawa Winning the Series 1-0. Sorry Penguins but your going down!!!!!!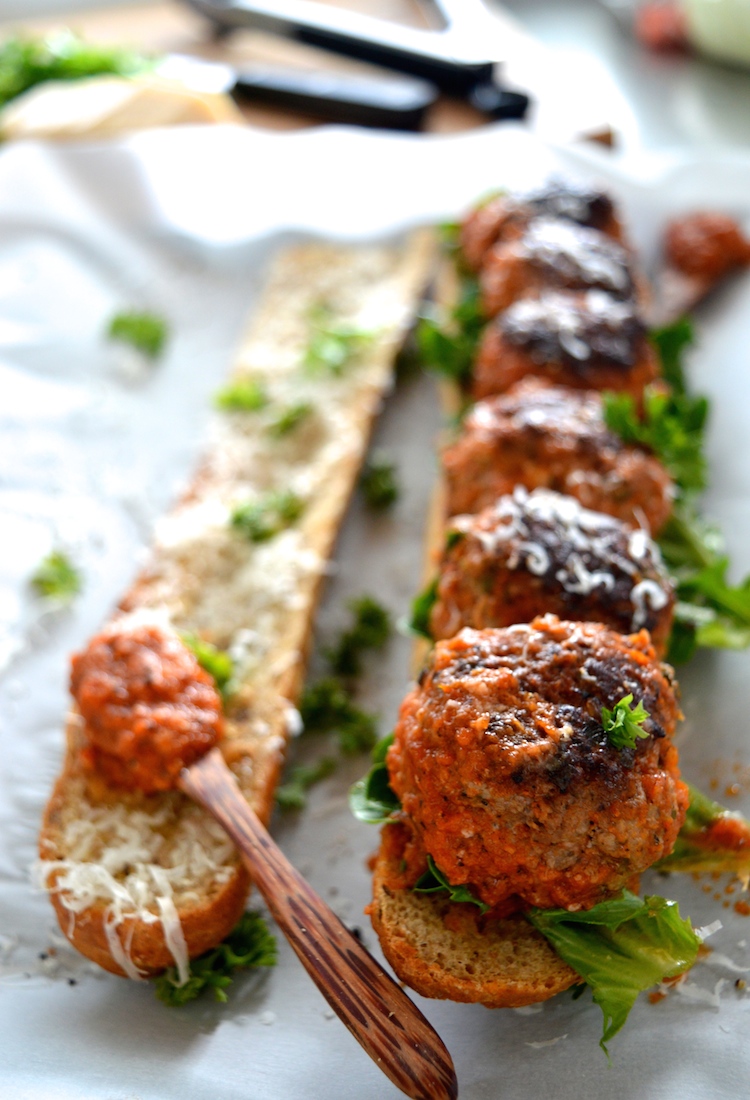 Omg lets talk for a second about how amazing it would be for a Canadian team to win the Stanley Cup Playoffs this year. (Ok Every Year Obviously) Well actually lets get one thing straight. Last year America made fun of us because there was no Canadian team in the playoffs but if you look closely and by closely I mean not that close at all you can see that there are far far far more Canadian players so you know what TAKE THAT!!!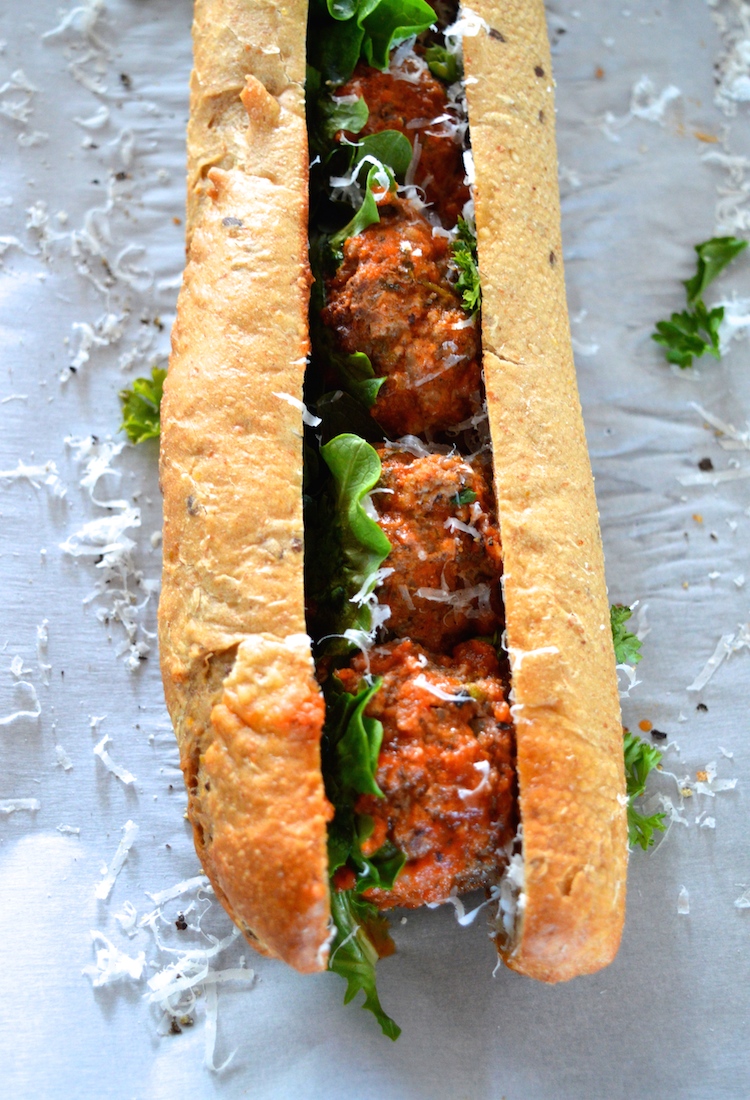 In the past years I have not watched hockey too much. As you could imagine it is not exactly the most popular sport to watch in the Caribbean. But do I 100% cheer for every Canadian team that makes it to the playoffs of course. Yes even you Toronto but lets face it we don't actually have to cheer for them that much I mean this was the first time they made the playoffs since 2004. Sorry Toronto peeps but I could not resist the jab
So as I was scrolling through some old recipes (and by old I mean I meant to publish this post 2 years ago old) and with the hockey game on my mind this recipe for Meatball Subs seems like the perfect fit
Meatballs Everyone …. Meatballs!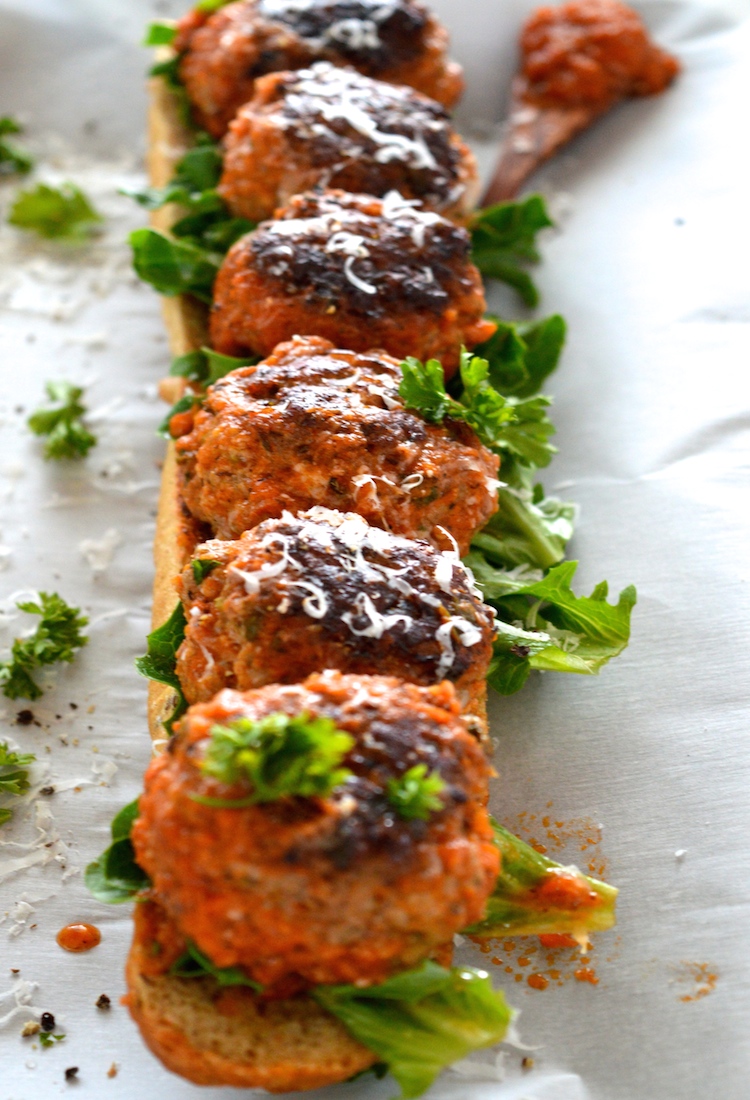 Seriously, who doesn't like meatballs. And a bonus there are so many new and interesting ways to make them these days. You can stick with the classic pork and meat blend or you can try something totally new and go with zucchini or mushroom. I myself have yet to try them but lately I am not eating meat and in some serious need for a meatball substitute. On a side note thankfully there is buffalo cauliflower "wings" to satisfy my hot wing craving because that is truly one of my favourite foods. Well I guess was now
But even though these days I am not eating meat I still know how to make a mean meatball that you are 100% going to fall in love with. Well unless you don't eat meat but then why you reading this. Probably my amazing stories right 🙂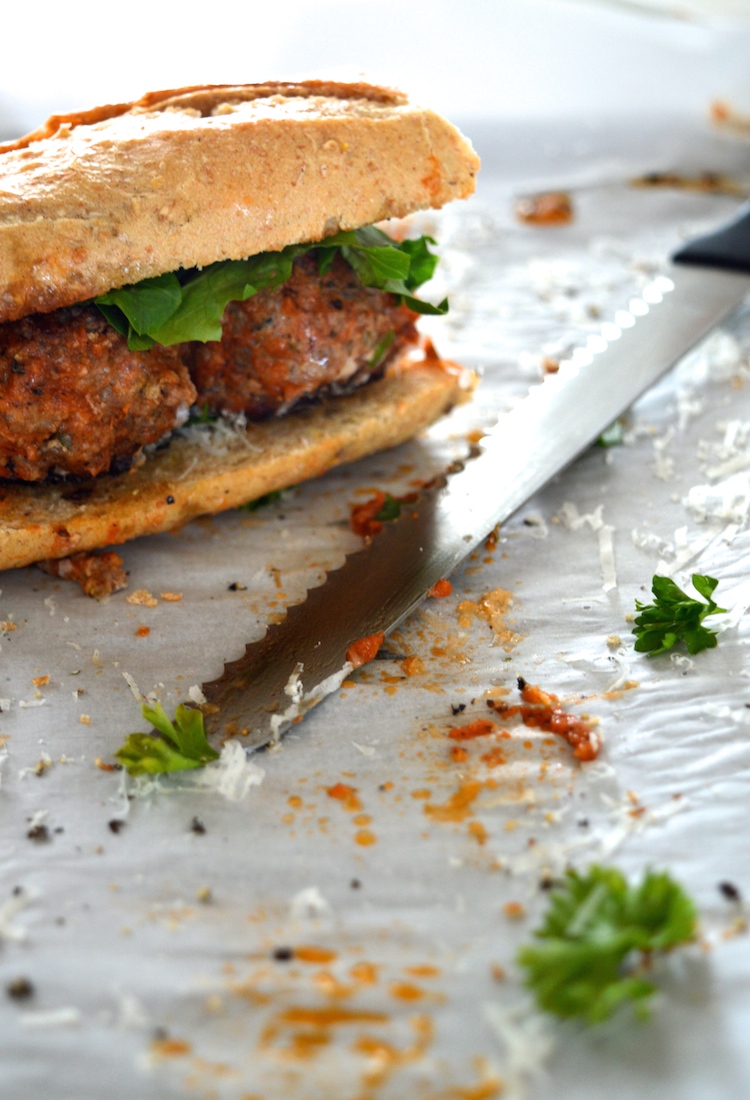 Some people don't want to do that much to their meatballs, just a simple meat and pork ratio with some seasoning but not this girl. I want them to be just flowing with flavour and my flavour I mean ..
Cheese Cheese and more Cheese
Sweet Caramelized Onions
Savoury Garlic (Who doesn't love garlic)
Dried and fresh herbs for maximum flavour
Well seasoned tomato sauce to compliments
Oh and lets not forget about topping them on the perfect bread and you guessed it, topping it with more cheese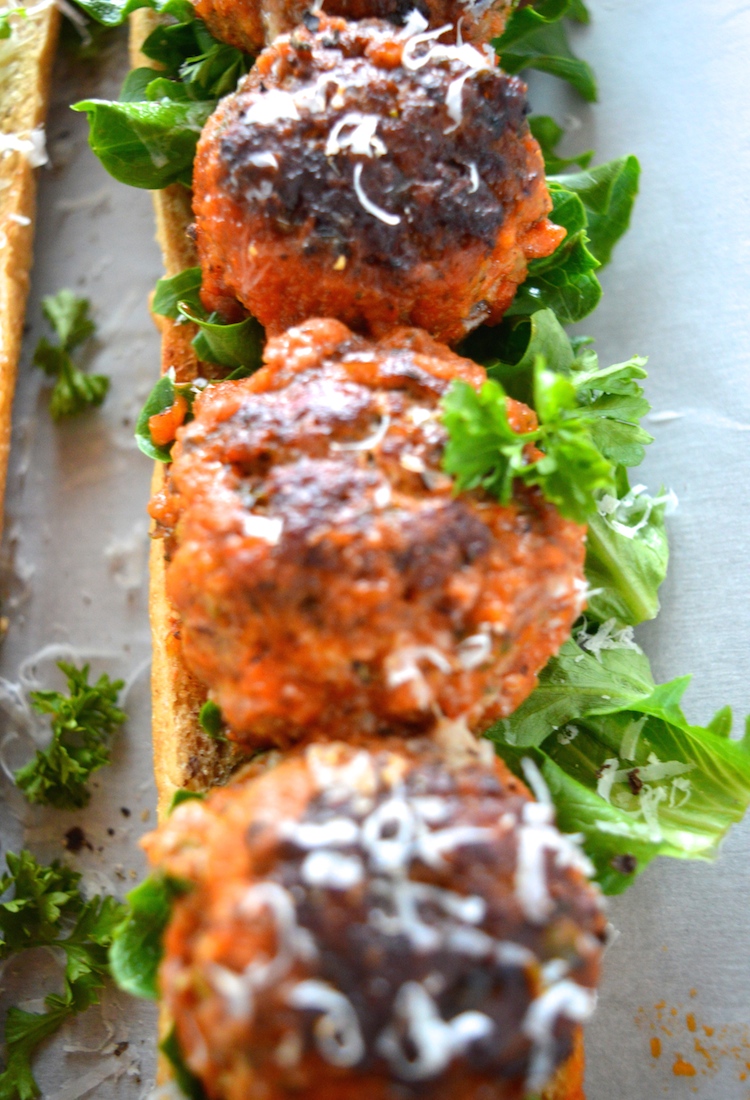 Its the playoffs people and we need playoff food am I right
And I mean, even if you are a Pittsburg Fan and are cheering against Ottawa you have permission to go and make yourself this delicious Meatball Sub. Just know you don't stand a chance! It's our year
As always Enjoy!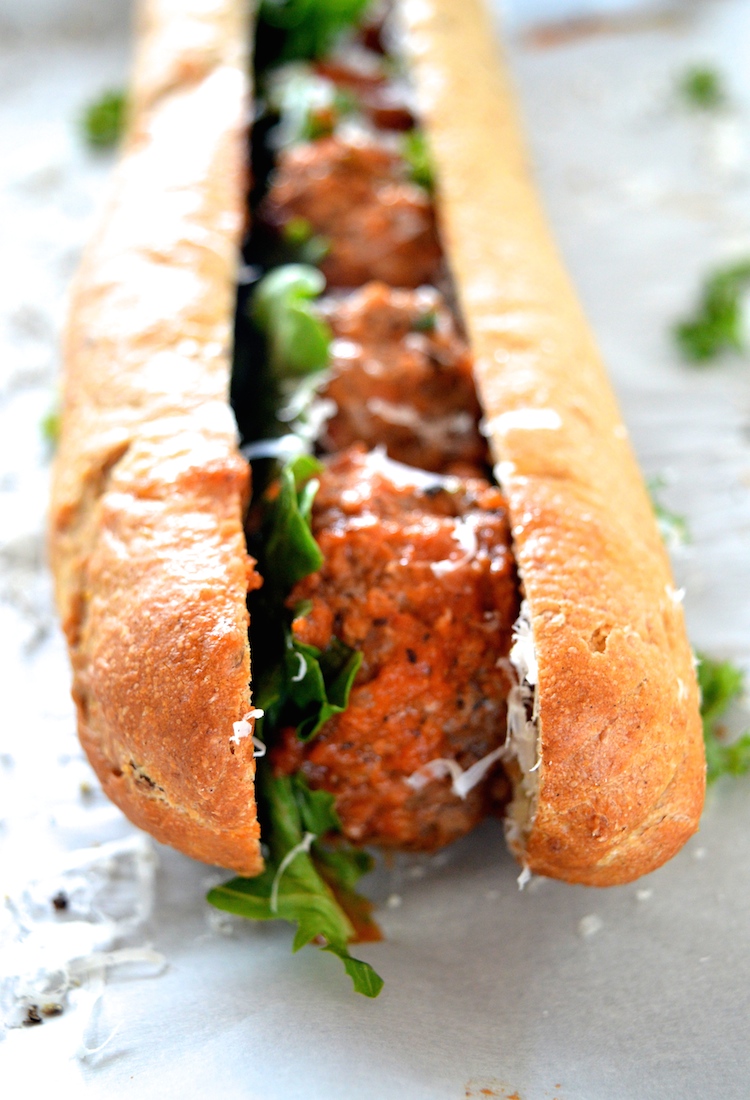 Cheesy Meatball Subs
Author:
Liz: Sadie's Kitchen Table
Ingredients

Meatballs:
1½ Pounds Ground Beef
½ Pound Ground Pork
¼ Onion, Diced
2 Tbl. Green Onion, Diced
4 Cloves Garlic, Minced
2 Tbl. Worcestershire Sauce
1 Tsp. Dried Chilli's
1 Tbl. Chopped Fresh herbs (Rosemary, Thyme, Parsley)
2 Tbl. Dried Italian Herbs
2 Tbl. Parmesan Cheese
2 Tbl. Ricotta
2 Tbl. Shredded Mozzarella
1 Egg Yolk
Salt and Pepper

Tomato Sauce:
1 14 oz. Can Crushed Tomatoes
2 Tbl. Olive Oil
4 Cloves Garlic, Minced
½ Onion, Diced
1 Tbl. Dried Italian Herbs
1 Tbl. Chopped Fresh Herbs
Salt and Pepper

Toppings:
Parmesana
4 Six Inch Baguettes
Lettuce
Instructions
Sweat the onions in a small pan over medium high heat with 1 Tbl. oil until translucent, about 5 minutes. Season with salt and pepper and let cool
Add the remaining meatball ingredients into a bowl and add the onions once cool and season with salt and pepper, about 1 teaspoon each.
Be careful not to over mix this will create dense meatballs (No one likes that!!!!)
Let the meatballs chill in the fridge for 20 minutes for the flavours to come together
While the meatballs are in the fridge create the tomato sauce. In a medium pot add two tablespoons of olive oil and sweat the onions for 5 minutes or until translucent. During the last 30 seconds add the garlic and continue to stir
Add the dried and fresh herbs and add the can of crushed tomatoes. Let simmer for 10 minutes then set aside to slightly cool. If you have a hand blender you can blend while this is hot but if you are using a food processor you want to let this chill slightly
Remove the meatballs from the fridge and form into equal size balls (Roughly 16)
While you are rolling the meatballs preheat the oven to 350 degrees Fahrenheit
Heat some oil in a 12 inch cast iron pan over medium heat and brown the meatballs on each side about 8 minutes. Remove the meatballs
Blend the tomato sauce and add to the skillet. Place the meatballs back in and place in the oven. Cook for 20 minutes or until meatballs are cooked through and sauce is bubbling
Remove from the oven and add four 6 inch baguette halves for 1 minute or until just warmed through
Take out of the oven and line each with a layer of lettuce, 4 meatballs each and top with the extra tomato sauce and parmesan cheese
Enjoy with lots of napkins