Right now I am on an everything Asian inspired cooking spree and these tacos are the next mash up that are going to leave your taste buds screaming for more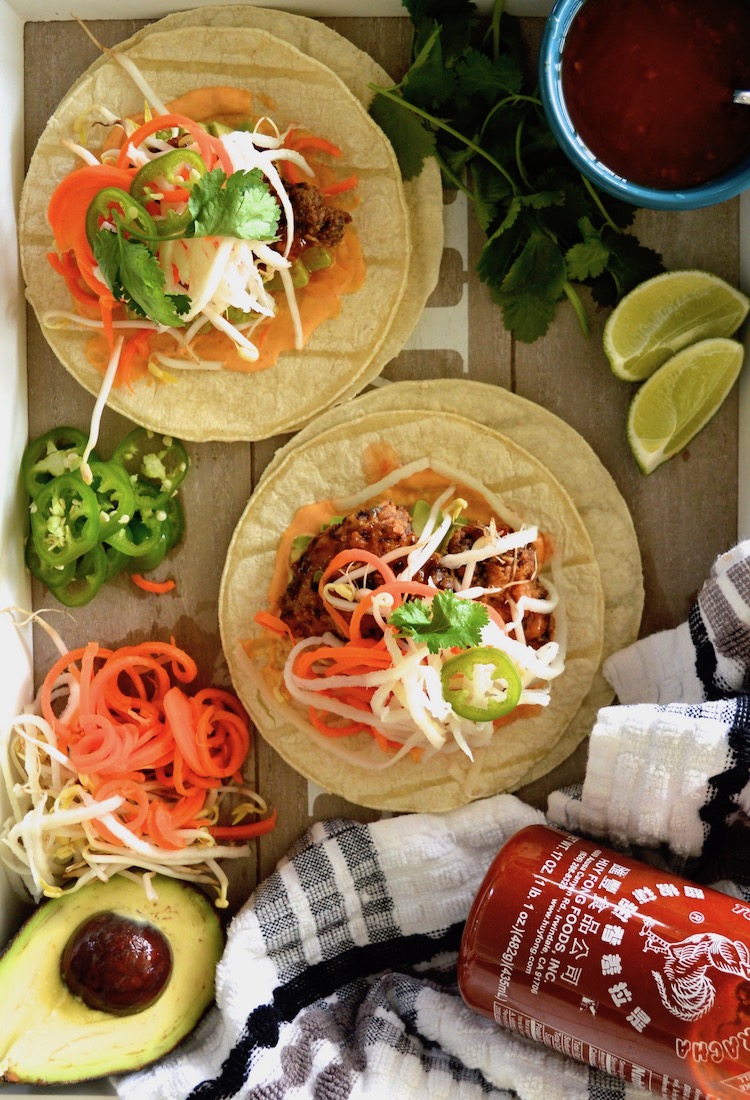 I guess before I go any further with this I should explain my long long long long ….. hmmm did I say long absence from my Cooking Blog. 6 Months have gone by and not a peep from me. It started off just being too busy that I felt like I had no time to properly concentrate on it. Then I moved into our very first house ( Wooooo Victory Dance ) and as you could imagine I became even more busy. Then my 30th Birthday happened and I think for a couple weeks I took a break from being online in general. Then in a twist of luck my computer broke and let me tell you something, there is not a single place i could find that could fix it.
So blah blah blah Life and a little bit of Laziness later here we are with this incredible recipe that I know that you are going to want to go out and make as soon as you can aka tonight!!
Tacos + Fried Chicken + Pickled Veg = Heaven!!!!!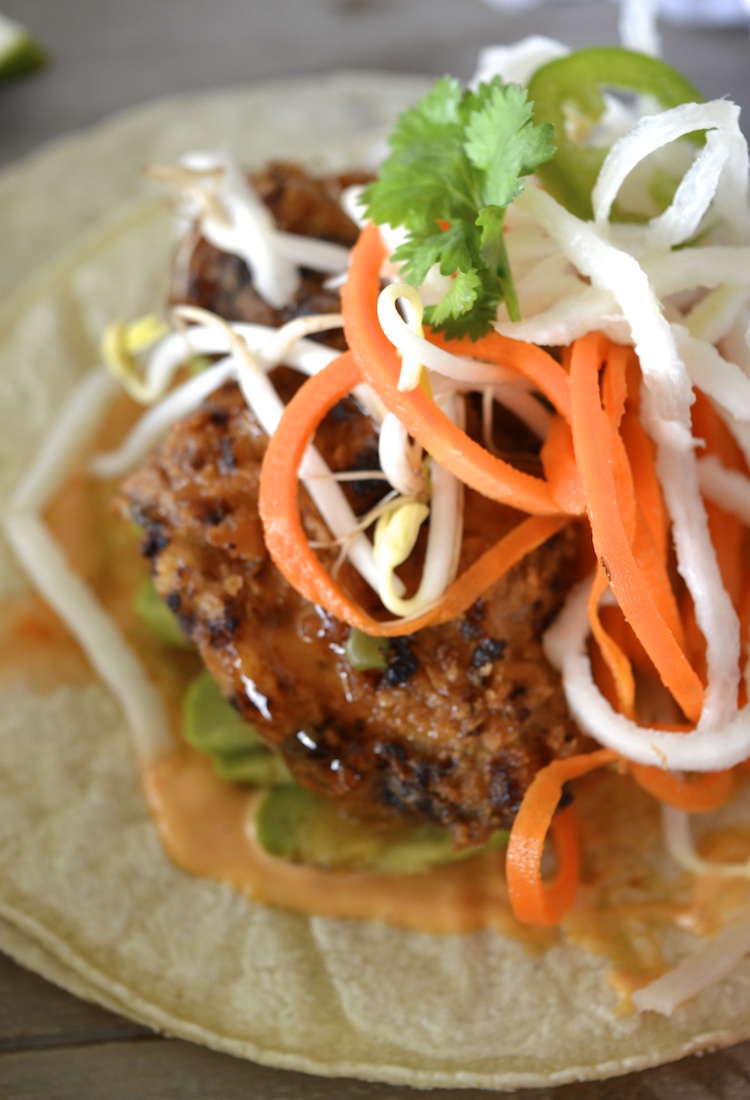 No joke this is just an incredible explosion of flavors. And a bonus about this is that you can swap out the fried chicken for some fried Cauliflower to keep it Vegetarian and you wont even know the difference
In Bonaire there is a serious lack of Corn Tortillas (Update, actually found a store that carries the mother load) and whenever they get them in stock you have about 1 day to get to the store before they are all sold out. And I don't know about you but I find that once you open them they have a very short shelf life so its best to try to get through them as quick as possible which in my household is a very easy thing to do. And if they do go a little stale it's time for some homemade tortilla chips. Score!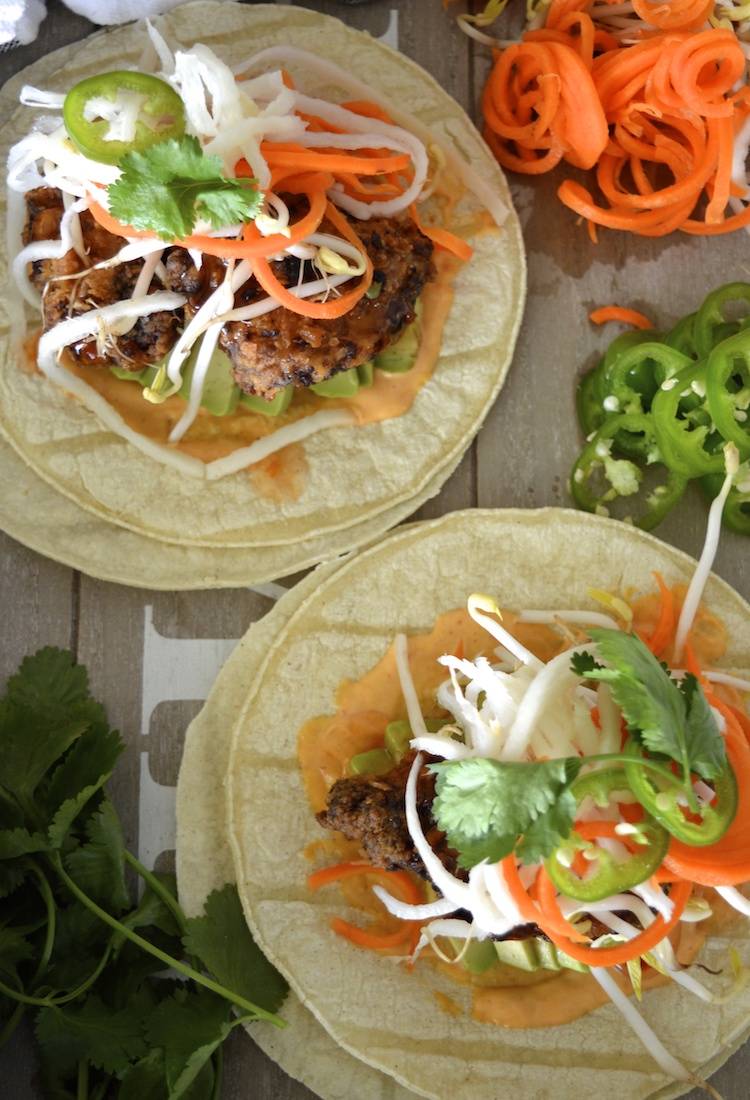 Oh you have never made homemade tortilla chips before? Let me tell you they are so simple to make and there is nothing better then fresh hot chips with a liberal coating of salt and cumin and some Guacamole. That recipe is out in a couple days my friends and it is perfect for summer
But lets get back to talking about delicious delicious tacos
Raise your hand if you could literally eat tacos everyday! Because I sure could. I mean you could throw anything in between a tortilla and call it a taco could you not? I mean there is nothing traditional about fried chicken and some Bahn Mi inspired toppings but you know it works and thats all I will say about that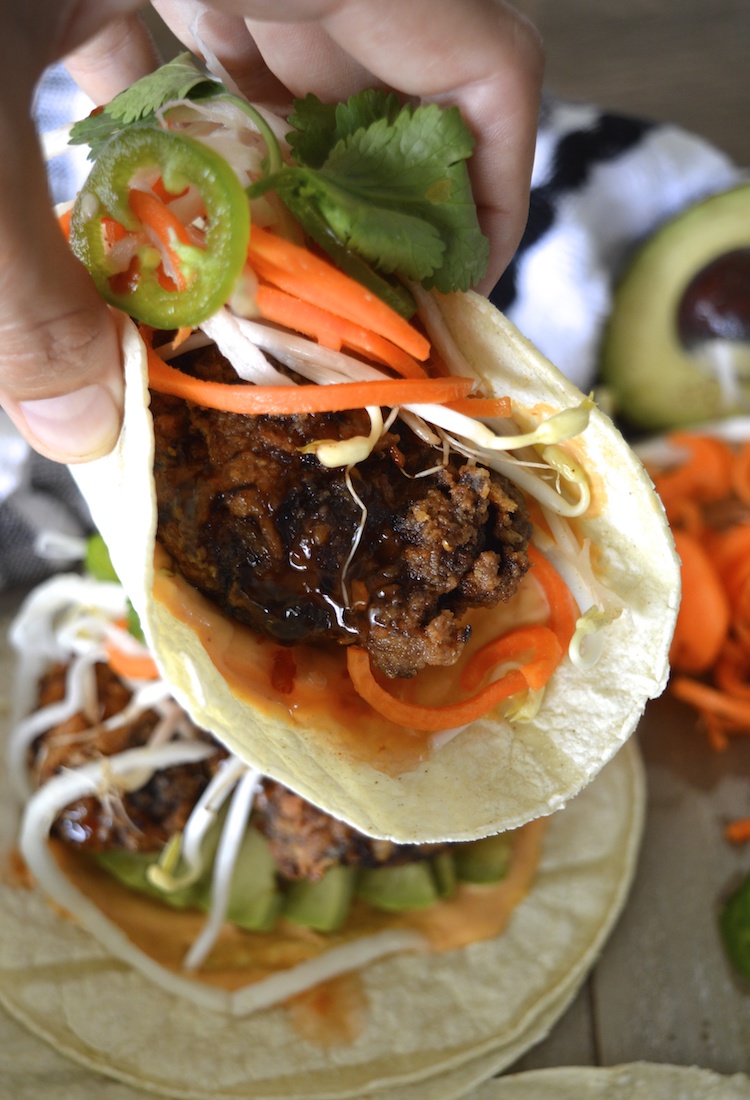 Ok, so you may or may not know from previous posts that I am full of random information and factoids. Randomly, yesterday I was reading something that well, fits in perfectly with this blog post
Did You know?
Taco Tuesday is Trademarked!!!!!!
Yes you heard me right, Taco Tuesday is a registered Trademark of Taco John's, a fast food restaurant in the United States. And they have been fighting legal battles with companies for over 2 decades about it. This is no joke. Hundreds of restaurants have received letters from the lawyers of Taco Johns and they had to stop having Taco Tuesdays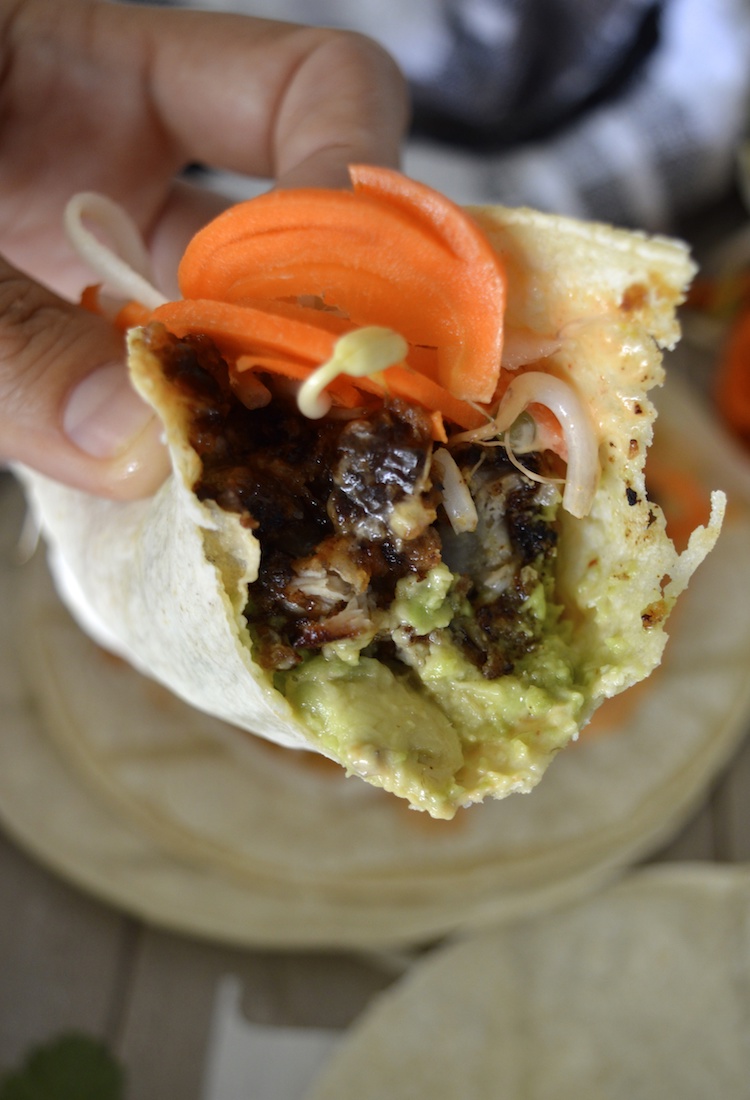 I mean, how can someone own the phrase Taco Tuesdays? Seriously that just seems a bit absurd to me. And how much are they spending on lawyer fees to make sure that no one else is using the phrase Taco Tuesday. Have you ever been to a lawyer? They are not cheap. And what do they do all day, search the internet for other restaurants holding Taco Tuesday promotions? Are these restaurants honestly taking any business away from Taco Johns?
Have you even ever heard of Taco Johns? I haven't
Anyways, these are the random and non sense things that seem to stick in my mind but hey, hopefully you got some entertainment out of it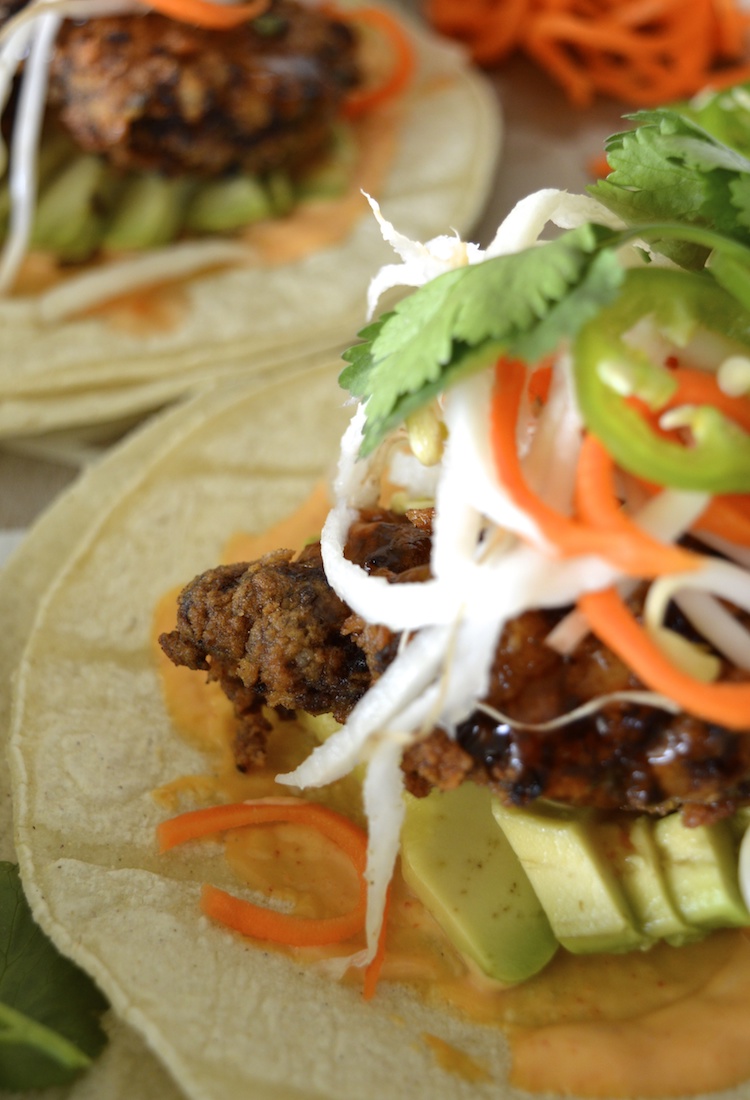 Before I start rambling on too much about this crazy Taco Tuesday fiasco that I have accidentally discovered lets talk about these delicious tacos
They are …..
Super Crispy
Crunchy
Drool Worthy
Addicting
Spicy
Finger Licking
And lets face the facts here, it's crunchy fried chicken with the flavors of a Banh Mi. I mean how can it not be delicious right
So again, I apologize for the super long break from the blog but I am sure that this recipe and the ones to come are going to more than make up for it
Enjoy xo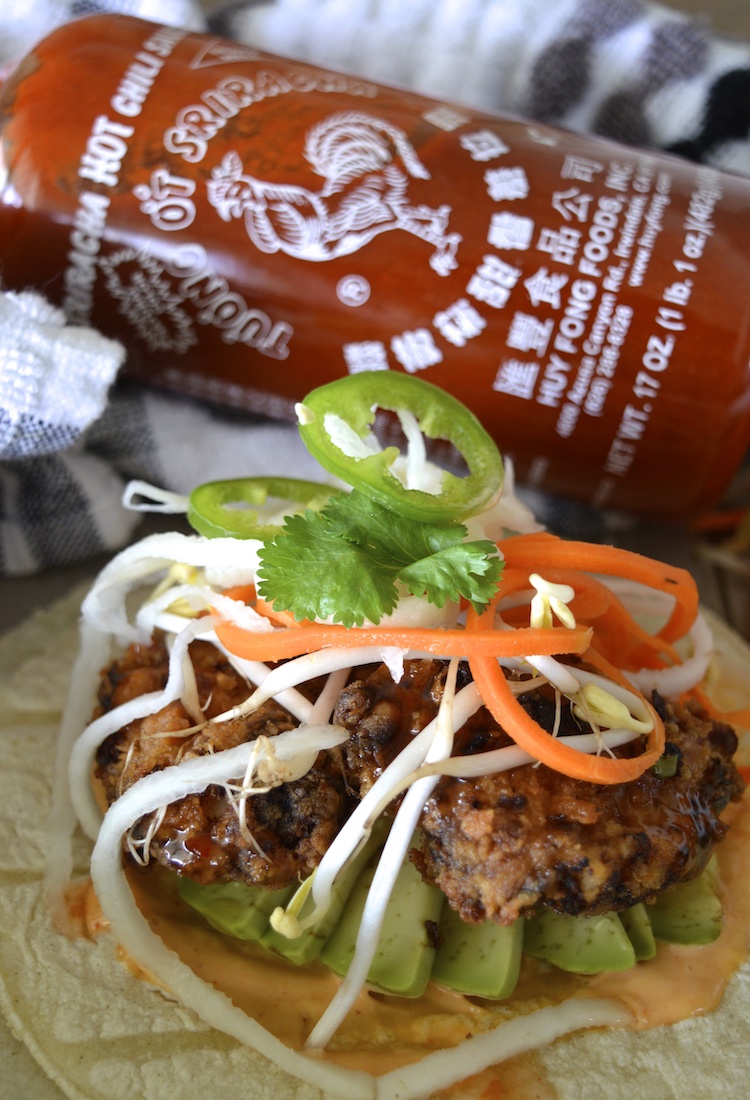 Banh Mi Style Fried Chicken Tacos
Super Crispy, Super Crunchy and filled with an explosion of flavors
Author:
Liz: Sadie's Kitchen Table
Recipe type:
Mexican / Vietnames Fusion
Ingredients

Fried Chicken:
4 Chicken Thighs (Cut into strips or chunks)
1 Cup Buttermilk
2 Tbl. Hot Sauce
1 Tsp. Salt
1 Tsp. Pepper
Vegetable Oil

Fried Chicken Mix:
½ Cup Flour
¼ Cup Panko
2 Tbl. Sirracha
Water

Pickled Vegetables:
1 Carrot
½ Daikon, Small
4 Tbl. Rice Wine Vinegar
2 Tbl Water
Salt

Sirracha Mayo:
4 Tbl. Mayonnaise
Sirracha

Toppings:
4 Corn Tortillas, heated
Cilantro
Bean Sprouts
Fresh Jalepeno
Sweet Chili Sauce
Instructions
Start by marinating the chicken. Add the sliced chicken thighs with the buttermilk, hot sauce, salt and pepper and refrigerate for 2 hours but preferably overnight
Take the chicken out of the fridge and let it sit for 30 minutes while you prepare the other ingredients
To make the pickled carrot and daikon, slice them into julienne slices and add the vinegar, water and salt and leave to marinate in the fridge for 30 minutes or so
Combine the sirracha and mayo and set aside in the fridge
Add the flour and panco bread crumbs to a bowl along with the sirracha and 1 tablespoon of water. Mix it together with your fingers to form some tiny crumbs. These are going to make the chicken extra crispy. Add more water if you want it more clumpy
Heat a cast iron pot or heavy pot such as Le Crueset with 3 inches of oil and bring to a temperature of 375 degrees Fahrenheit. Coat each piece of chicken into the flour mixture and then drop into the oil. Fry in until crispy and cooked through, about 5-6 minutes
Drain on a wire rack
To assemble the tacos, add some sirracha mayo to the bottom of a corn tortilla, add 2 pieces of the fried chicken, some pickled carrots, cilantro and some jalapeño if you like it a little spicy
Enjoy delicious crispy crunchy mash up tacos